Multi-Kulti Health and Care Service
Since our foundation in 1998, we have made the medical care and support of people in need of care and assistance our task and offer a comprehensive service for this. Multi-Kulti Gesundheits-und Pflegedienst, a leading regional care service provider in the south of Hamburg, stands for quality and heartfelt care. Our range of services includes home care, day care, dementia care community and assisted living. In addition, our health and care team offers a wide range of additional services, such as housekeeping services. For more than 25 years now, more than 80 employees in sixteen different languages have been providing medical and nursing care to hundreds of people of different origins in need of help.
It is close to our hearts to ensure the best possible quality of life for every person with their individual needs in a familiar environment. Unique employees with a great willingness to perform give their best to care for people in need of help sensitively and responsibly and to accompany relatives individually.
Since the beginning of our work, the human being has been at the centre. Our highest priority is respect for the dignity of every person, regardless of cultural or religious background, is the basis of all our actions. He should be respected with his different needs and receive the best possible care in his familiar, home environment. We are constantly adapting our range of services to the personal needs of our clients, and at the same time we feel continuously committed to our values. In 1998, Leyla Yagbasan founded our health and care service as one of the first nurses of Turkish origin in Hamburg. It is the enthusiasm and passion for helping and supporting other people that drives us as a family business every day. We will continue to maintain this motivation unchanged in the future.
Together, the management and our management team run Multi-Kulti Gesundheits- und Pflegedienst International GmbH with around 80 expert employees. In addition, five employees work in the administration and thus guarantee smooth processes.
In outpatient care, the residential care community, day care and assisted living, our team is made up of:
Registered health and (paediatric) nurses
Certified geriatric nurses
Health and care assistants
Medical secretaries
Nursing and geriatric care assistants and nursing assistants
housekeepers
Social pedagogues
Hygiene specialists
and four trainees
All employees are committed to regular training and further education in order to always be up to date in the field of nursing and care for the elderly. The work of our nursing staff follows the nursing concept according to Monika Krohwinkel, which demands a holistic nursing process for people in need of care and assistance. This model, according to Professor Monika Krohwinkel, is perfectly in line with our understanding of care, as it gives top priority to the needs of the client. In addition, Krohwinkel's care model helps us to meet our own aspirations in care.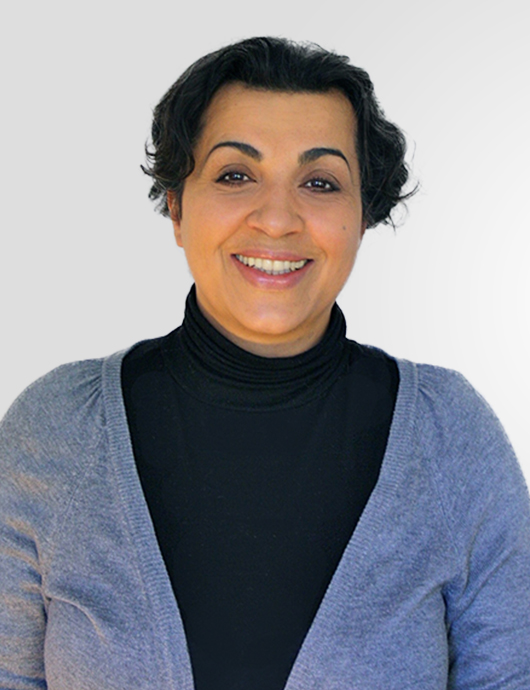 Leyla Yagbasan
Management
l.yagbasan@multi-kulti-pflegedienst.de
Hakan Arslan
Nursing management
h.arslan@multi-kulti-pflegedienst.de
Monika Köpke
Quality management
m.koepke@multi-kulti-pflegedienst.de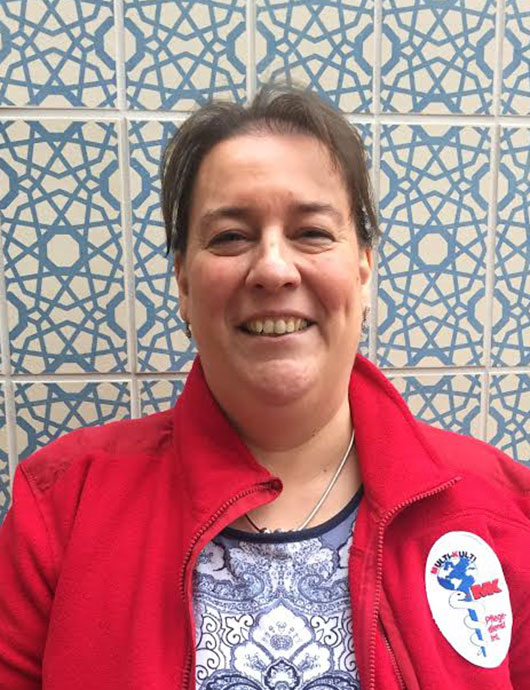 Stephanie Trapp
Management of the day care centre
tagespflege@multi-kulti-pflegedienst.de
Hayriye Ekmekci
Head of outpatient residential care community
info@multi-kulti-pflegedienst.de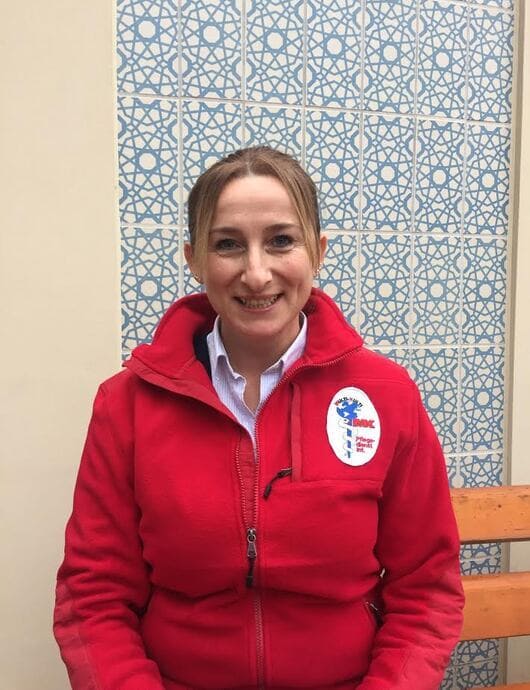 Nevenka Ninkovic
Hygiene specialist
info@multi-kulti-pflegedienst.de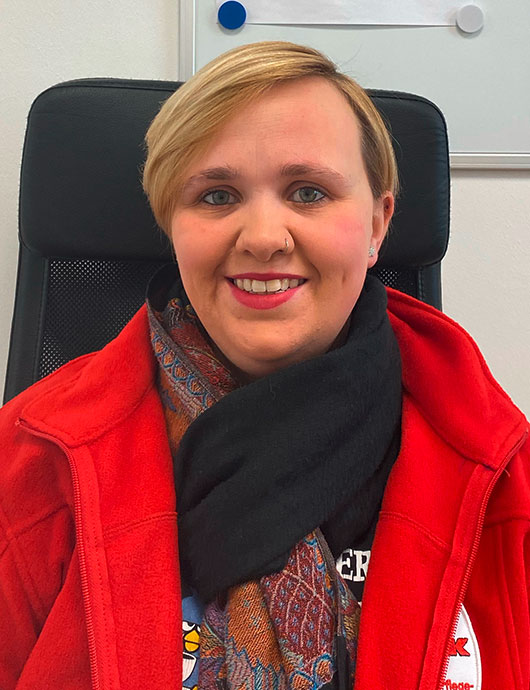 Jessica Meyer
Practice supervisor
info@multi-kulti-pflegedienst.de
Nurhak Özulus
Team Leader Household & Service
n.oezulus@multi-kulti-pflegedienst.de
Ayla Yüce
Administration
a.yuece@multi-kulti-pflegedienst.de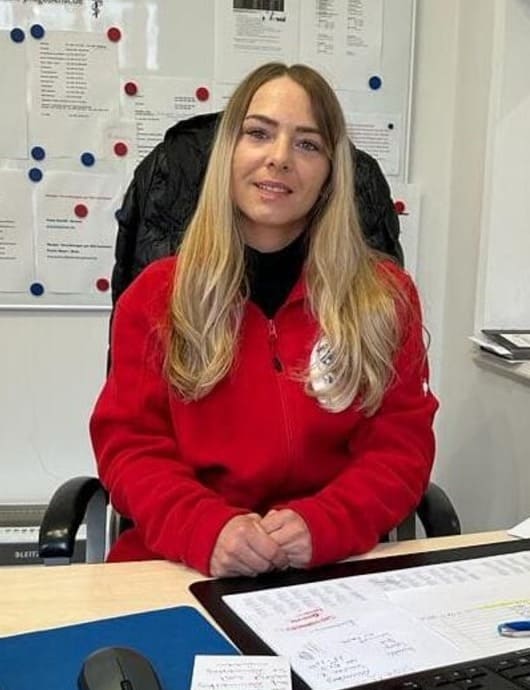 Meryem Gürlevik
Administration
info@multi-kulti-pflegedienst.de
Filiz Kaya
Administration
info@multi-kulti-pflegedienst.de
Our values are based on a humanistic world view, which is characterised by an appreciative and respectful basic attitude of our staff in their dealings with our clients. The care we provide is shaped by a care-theoretical model of holistic nurturing process care with the activities, existential experiences and biography of life. The following principles have the highest priority for our daily work:

HEARTS
We are passionate about our job. For this reason, we are particularly keen to treat other people in a mindful, loving and compassionate way. Since the beginning of our work, the focus has been on people.

RESPECT
For us, it is indispensable to respect the dignity of everyone, regardless of religion or origin, and to behave respectfully in dealing with the other person. We also pay special attention to maintaining and respecting the self-determination of the person in need of care.
PROFESSIONAL
We at Multi-Kulti Gesundheits- und Pflegedienst set permanently high quality standards for the work of our staff as well as for the individual approach to our clients.
RELIABILITY
Reliability is a quality that has high priority for us. At Multi-Kulti, this simply means that you can trust statements made. There are no unwanted surprises with us.

TRANSPARENCY
Honesty is indispensable for us in all areas. It is important to us to make processes as transparent and open as possible. Upon request, clients can also receive a copy of the care insurance bill.
We, the Multi-Kulti Health and Care Service, offer high-quality, excellent and unique outpatient care services and are continuously expanding our range of services. Since our foundation in 1998, we have been caring for patients with the greatest possible commitment and heart and soul. In doing so, our humane values and principles always have a decisive influence on our work, because it is the person who should be in the foreground. At the same time, we also take care of the individual support and counselling of relatives. As a multicultural family business, we are able to guarantee flexible care that is tailored to the individual and his or her needs, and to respond to his or her particularities in terms of region, language, gender, inclination, habits, interests and other aspects. This makes us a unique and indispensable partner for people in need of care and their social environment. With the help of our cultural sensitivity and culturally sensitive care, our professionalism and empathy, we fulfil our task even in times of social change and new challenges.
Our care mission statement
For those who can no longer live without the assistance of others, our Multi-Kulti Health and Care Service offers individual care and support even in the most severe cases. In our care mission statement and guiding principles, all employees of Multi-Kulti Gesundheits- und Pflegedienst International GmbH have committed themselves to common principles of care. The human dignity and independence of each individual client are of great importance to us. Not only do we coordinate the times of our visits with you, but we also adapt our professional care to your individual situation. In accordance with our care mission statement, our highest priority is respect for the dignity of every person, regardless of cultural or religious background, is the basis of all our actions.

TARGETS
We at the Multi-Kulti Health and Care Service support people with physical, mental or emotional impairments in their daily lives, for whom this is impossible or only partially possible on their own. Our goal is to help these people regain their well-being, to give them a feeling of confidence and relief, to preserve the greatest possible autonomy of the person and at the same time to provide first-class care. Respect and compliance with all the laws of the society in which we live and work, as well as compliance with contractual obligations, is for us the basis of a trusting cooperation at all levels.

THE HUMAN BEING IN THE CENTRE
Respect for the dignity of every person, regardless of their cultural and religious background, is the basis of all our actions. The person with his or her individual wholeness is the focus of care. They are treated with dignity and respect regardless of their age, gender, skin colour and faith. Maintaining, restoring and promoting the freedom and independence of each person as far as possible is an important concern for us. This means that we act as far as possible in accordance with the wishes and needs of our clients. Our way of working is based on a culturally sensitive approach to our patients and their relatives. Central to this is empathetic and respectful communication as well as a way of thinking and acting towards them. In concrete terms, this means that we take into account the origin, language, religion, gender, life biography as well as the personal preferences and interests, eating habits, traditions, customs and traditions of the individual client and his or her social environment, include them in the care and adapt the care to the individual. We welcome every person with an open mind and a warm welcome. Our clients are united by their desire to feel well cared for and to be cared for in an understanding and gentle manner.
OUR MULTI-CULTI CARE AND SUPPORT
In discussion with the client and his or her relatives, the wishes of the person concerned are first recorded in order to then adapt the care and support to the respective needs in the best possible and individual way. Especially with regard to religious, linguistic and cultural concerns, we as a team, which consists of specialists and assistants from different ethnic groups, are in a special position to understand you around the clock and to be able to care for you accordingly. By means of activating care, we also achieve the greatest possible preservation of the self-determination and independence of the person in need of care. This makes it possible for people we support to continue living in their own homes. This is also a great help for the relatives, because they also experience support through our accompaniment. Hospital stays can also be avoided. We therefore avoid frequent changes of nursing staff. Furthermore, our large network, which extends beyond the care sector, offers the advantage of also finding a solution for a person's everyday problems and dealing with them. For example, we work together with doctors, pharmacies, hospitals and public institutions.
EMPLOYEES
Our qualified staff organise, implement and document the care completely and precisely. This makes care transparent and verifiable. In order to always be up to date, we incorporate innovations in nursing science as well as legal changes into our care. Our management team and cooperation partners also regularly inform and advise our staff about the latest findings and research results. Continuous further and advanced training of our nursing staff ensures a highly professional and qualified way of working. In parallel, the care and human warmth of our staff enable a relationship with the client that is characterised by appreciation, respect and understanding. This makes a decisive contribution to people's well-being and recovery.
The language skills of our team are often of high importance in terms of openness and cultural sensitivity, among others we speak German, Albanian, Bulgarian, DGS - German Sign Language, English, Farsi, Italian, Croatian, Kurdish, Dutch, Paschto, Polish, Portuguese, Russian, Serbian, Spanish and Turkish.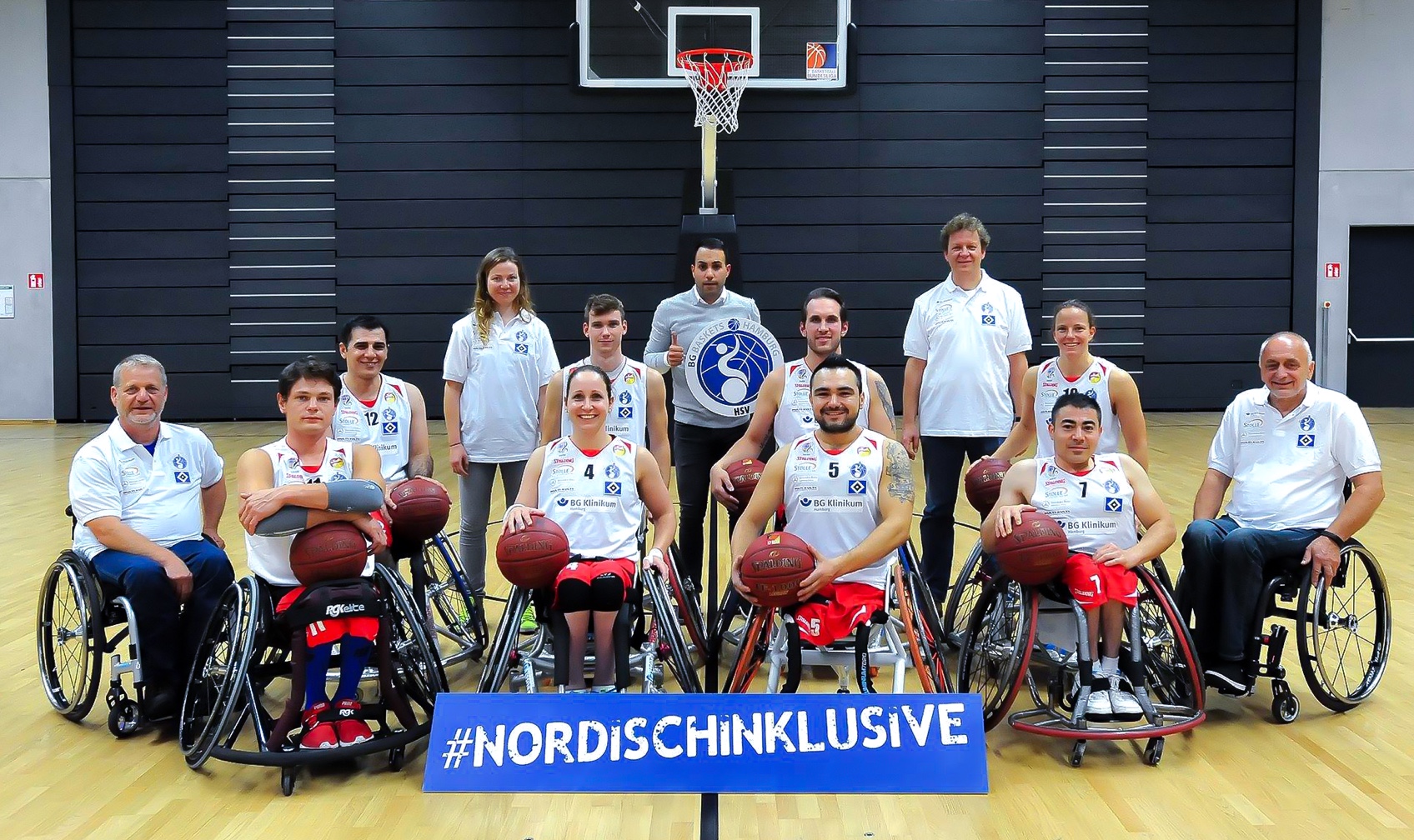 The local clubs are very important to us, especially when sport promotes integration and inclusion. We feel closely connected to our home region of Hamburg- Wilhelmsburg, Veddel and Harburg. By donating and sponsoring clubs, initiatives, projects or facilities, we make an important contribution to supporting this commitment. This is how we live responsibility! For this reason, we support social commitment especially here. We are also a Gold Partner of the HSV Wheelchair Basketball Bundesliga team BG Baskets Hamburg. Among the sponsors are the BG Unfallkrankenhaus Hamburg, Spalding, Mercedes and Lotto.
In the future, BG Baskets Hamburg will not only be multicultural on the court: Our Multi-Kulti Gesundheits-und Pflegedienst International from Wilhelmsburg is a partner of the HSV wheelchair basketball players and supports Holger Glinicki's team in the German Wheelchair Basketball League (RBBL). With our sponsorship commitment, we are pleased to be able to encourage people with handicaps to keep going and develop their personal skills in order to participate in the community again. After our discussions with the responsible persons and numerous visits to games in the Inselpark Arena, our opinion has strengthened that the members of the wheelchair sports department and the players of BG Baskets Hamburg can be role models for participation and integration both in the Wilhelmsburg district and for the whole of Hamburg. In addition, we would like to help support a successful team in the Bundesliga and, together with all fans, keep our fingers crossed for the coming season. We are looking forward to rousing games, great results and world-class players!
We are networked with strong partners so that the optimal solution can be found quickly and unbureaucratically at any time for the benefit of the client. We will be happy to advise you on all the options for making use of these services.

Doctors
Physio-therapists

Ergo therapists
Medical supply stores

Foot care
Hairdressers
Home emergency call

Meals on wheels
Pharmacies
Opticians

Hearing aids/accumulators

Hospitals